When you want your message to reach the target market by means of a simple yet effective channel, Static Websites are the best. There is no flamboyance in designs, no flashy content and nothing of the sort that you find stunning, yet Static Websites have a distinct appeal and a professional structure. They never distract the visitor and rather communicate in a straight forward manner.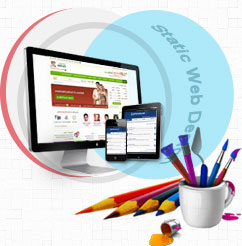 Weblinkindia.Net, in its existence of over 17 years in the Web Development Industry, has created some of the most effective and economical Static Websites for small and medium enterprises. Our forte lies in successfully translating novel ideas into web designs such that the businesses can grow through strong online presence. Our Static Websites have all those features that help you drive up your conversion rates. We also offer customized Web Solutions to meet your exact business requirements.
Request a Quote or Call us +91-11-47282233
" We appreciate your interest in our service "
Static Web Design Plans
Plan- I
Price :
INR 25,000 / USD 450
Plan- II
Price :
INR 30,000 / USD 500
Plan- III
Price :
INR 35,000 / USD 600
Why Choose Us?
We design simple yet powerful Static Websites
Our designs are novel and unique
We are masters in SEO techniques
Our web designs assure high conversion rates
We are available 24*7 with Live Help Desk Support
Our price quotes are the best in the industry
Our experience of more than 15 years is our strength
Our solutions are innovative and tailored for your exact requirements
Websites We have Developed - More Portfolio
" Good to obtain the strengths, necessary to compete in today's technological world, with the efficacious solution which are always needed. At each step, WeblinkIndia.Net delivered us more that what was expected and today its expertise has added value in the maintenance of information flow on website. "
Sam Parvisian
" Managing trips & perks for the tourists has never been so exhilarating as we have touched the highest ebbs in our endeavors. WeblinkIndia has built the most effective web solution that helped us in serving more clients and maintaining rapport with the existing clients. "
Abid Ali Chaudhary
Features of a Great Small Business Website:
Know your target audience and Set clear goals on every page

The prerequisite to designing a great small business website is to know your target audience and its exact requirements. This should be followed by creating separate web pages such as Home Page, About Us Page, Product Page, etc. strategically tailored to meet the goals they are designed for.

Simple Navigation to provide easy access every page

Websites where users cannot locate the navigation links easily have high bounce rates; visitors don't want to stay on such websites and more importantly, their chances of returning to such problematic websites are feeble. So design a website that has simple, intuitive navigation for a rich user experience.

High Resolution Product Images to give clear presentation

The clarity of product images influences the buying behavior. It is advisable to use High Resolution Product Images that show your merchandise with absolute clarity. The impact of attractive images may be a defining factor in converting the visitor into customer.

Detailed and Engaging Product Info to attract customer

You must be very judicial in rendering product information on your website. Too little information will not serve the purpose, and excessive detailing may make the site complicated. Present the most important features of your offerings with clarity, conciseness, accuracy, and in an interesting manner.

Call to Action button and information

One of the most important elements in the structure of a website, a Call to Action button prompts the visitor to take an immediate action be it for enquiry purpose or to book an appointment, etc. This is one way you ensure that your visitors remember your business even after they leave the website.

The Value Of Content

Content is valuable and serves multiple functions. It may be aimed at image building, brand promotion, product/service promotion or simply selling something. Whatever the objective be, your website should have an engaging content that communicates your message effectively. You must not splurge excessive details for that may offset the visitor and, on the other hand, the content should not be too short to be complete.

Create easy points of contact.

If your want the visitors to contact you when they visit the website, provide clearly visible contact information through easy points of contact. Strategically place buttons like call to action, request more information, contact forms, or visit your location, etc. to ensure that visitors don't have to search long for options to get in touch with you.

Provide Testimonials:

Testimonials bring in credibility factor and instill confidence in the visitors' mind. So, get a testimonial page in your website to influence the perception of those who come to your website. Including success stories can also give great results.

Integrate Social Media

Social media today defies all boundaries and connects people across all countries, communities, industries, etc. If you can enable the visitors to connect with you on popular Social Media platforms like Facebook, Twitter, LinkedIn, etc. it gives you competitive edge. Your prospects will be able to learn more about your and connect with your existing customers.