One Stop Solution For All Your Needs
Save Time. Save Money.
AND MANY MORE CUSTOMIZED FEATURES
Guaranteed Minimum Cost
Monthly Payment (ECS) Facility
Get 30 Days Trial FREE
Fully-functional ERP Software
Top Benefits of ERP
Error-free automated processes for all operations
Mobile-Friendly allows working 24x7
Simplified, Secure & Paperless Data Storage & Access
Common information-sharing platform for all your users
Easy hassle-free management of data.
Time saving, efficient and pocket friendly.
Compatible To All Devices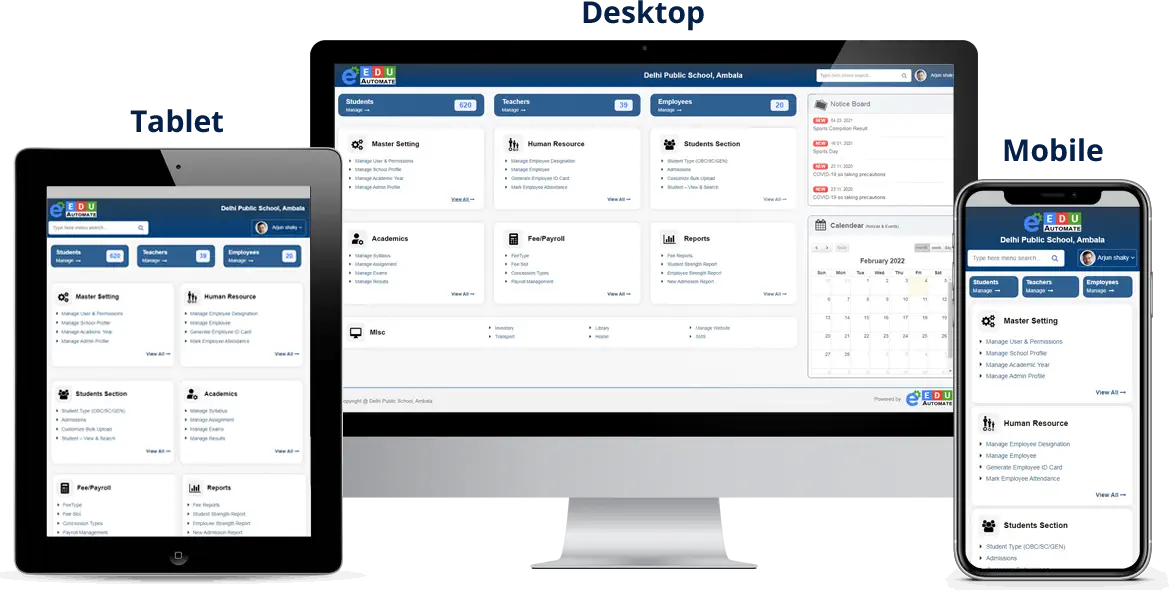 Why You Need this School Management System

Evolution is the key to survival. Having a powerful ERP and Edu management system that assists in the building of future-ready schools, colleges, universities and institutes is imperative to race ahead of competition.
Get a remarkable website that leaves a lasting impression

Automated administrative tasks ensure efficiency, accuracy and comfort

Easily manage the exams, schedules and upload its results online

Hassle-free Fee Management by setting Fee type, payment modes, concessions, fee slots etc.

Efficient Academic and Co-curricular activities management and planning

Common information-sharing platform for the students, the teachers, parents and all other education partners.
Mobile Features of School ERP Software

Users And Permissions
School Profile
Admin Profile
Manage Assignments
Mark Attendance
Generate Fee Slips
Enroll a New Student
Data Bulk Upload
View All / Search Student
Mark Employee Attendance
Leave Request
Manage Employee
Generate Employee ID Card
Manage Exam
Report
Human Resource
Manage Period System
Payroll Management
30+ schools have chosen our School ERP Software
to run and manage their operations efficiently

Complimentary Services with WEBLINK'S ERP Software

Additional Services you get at ZERO Cost
Complete Technical Support
With ERP@Weblink, you get technical support from our experts to have your ERP-Edu system work seamlessly.
Lifetime License
Get complete ownership, documentation and other requisite licenses of your ERP-Edu system for solely managing your institution
Free Email Notification
Parents, guardians, and students are regularly notified about the school's activities to keep them connected with school's staff
Why to Choose School ERP Software @WEBLINK


Mobile Friendly
This mobile-friendly ERP-Edu system helps you work on the go

Connect with all
Easy information dissemination and common platform to connect the students, parents, teachers and staff

Data Security
All the data like student information, fee, academic papers, assessment results etc. are fully encrypted and secure

Easy to Use
Using our ERP@Weblink is very easy and all information can be accessed in just a few clicks

Go Paperless
This environment-friendly ERP Edu system allows you to publish information online be it exam schedule or results without printing

Simplified Management
Automated management of academic, administrative, financial and any other data reduces manpower and time
---
On the basis of selection of Products, additional Terms of Service shall be applicable on use of Service.
---
Words Of Appreciation From
Our Clients
"WeblinkIndia.net has enabled us to generate a tremendous clientele with the remarkable website it has designed for my company. From designing an engaging website to administering all its features and tools, Weblink's ..."
Mr. Paramjit Singh (India)
"After getting into direct contact with Weblink India, I've come to know its influential position and reasons why it is contacted for the most effective web solutions. During the tenure of my clienthood, I have been noticing ..."
Syed Akhtar (Dubai)