Animations are the most powerful means of capturing visitor's attention on a website. Flash is a tool that integrates animations with audio and presents information in an engaging, interactive, and impressive manner. We, at Weblinkindia.Net, create flash websites that are attractive, interactive, versatile, optimized for fast delivery of graphics on the screen and suitable for cross platforms. Our Flash Web Designs are simply amazing and deliver high-quality Web graphics with rich Graphical User Interface.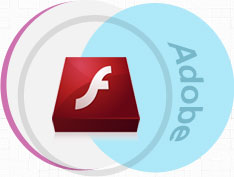 Our Flash Websites feature flash navigation bars, advertising banners, animate buttons, etc. and take minimal time in loading. We hold expertise in designing and developing Full Flash Websites, Flash CMS Websites, Dynamic Flash Websites, Flash ecommerce websites, etc. You can avail our Flash Web Designing Services and get interactive websites that leave long lasting impact on the visitors.
Request a Quote or Call us +91-11-47282233
" We appreciate your interest in our service "
Why Choose Us?
Huge experience of over 17 years in Web Designing and Development
Mastery achieved after developing more than 50, 000 websites
Skilled workforce of over 1000 employees
Equipped with start of the art infrastructure
1000+ live workstations, 70+ dedicated Self-Managed Servers, High Bandwidth Dedicated Leased Lines
250+ dedicated helpdesks for 24*7 customer support
Offering the best solutions at modest price quotes
FLASH DESIGN Services FOR HIGHER IMPACT!
Flash Designs are powerful means of creating dynamic, interactive websites. They employ a wide array of techniques to generate higher impact in the visitors and eventually serve the purpose of communication, brand promotion, sales, etc.
Full Flash Website Design

Full Flash Websites go beyond text and images and comprise of sophisticated applications and rich multimedia with high level interactivity. Full Flash Web Designs with powerful Graphical User Interface leave a long lasting impact on the visitors and draw them back to the website.

Website Flash Headers

Website Flash Headers created with smart use of imagery, words and animations catch the attention of the visitors in the first go. They are quite impressive, lend a touch of uniqueness to the website and make the page energetic and livelier.

Flash Website Intros

Flash Website Intros can be highly stylish with amazing animations and even interactive capabilities. You can select a Flash Intro as per the overall theme of your website and influence the visitors to a significant extent.

Flash Banner Design

Flash Banners are powerful mode of advertising on cyberspace. They are designed in different shapes and sizes in highly attractive graphics and can be very effective in creating brand awareness due to the high level of message retention associated with them.

Customizations of Flash Templates

If you think that a preconfigured flash template requires a bit of personalization to be able to present your product or service in an effective manner, you can avail our Flash Template Customization Services. We design powerful flash templates that are attractive, interactive, versatile, optimized for fast delivery of graphics on the screen and suitable for cross platforms.

Corporate Flash Presentations

Corporate Flash Presentations can be published on a website for engaging the user by creating a dynamic Web environment. They can communicate serious information in a lighter manner without compromising on the impact it is supposed to generate.

PowerPoint to Flash Conversion

We use sophisticated tools for converting PowerPoint applications to Flash applications with no loss of fidelity. You can avail our services and get amazing Flash animations pepping up your website.

Flash Logo Design

We design visually captivating Flash Logos that can help you build your company's brand image and identity in cyberspace. We combine our understanding of design, colors and graphics with powerful flash applications to craft stunning Flash Logos.
FLASH DEVELOPMENT Services FOR HIGHER INTERACTIVITY!
Studies show that we generally retain only 15-20% of what we read. But the retention rate jumps up to nearly 70% if the information has an interaction with the reader or viewer. Drawing inspiration from such strong scientific findings, Weblinkindia.Net renders "Next Generation" Flash Development Services and creates highly attractive, interactive and versatile Flash Websites and a host of other applications.
Dynamic Flash Websites

Dynamic Flash Websites feature powerful Graphic User Interface and at the same time allow the owners/administrators to easily add new pages, edit the existing ones and update the information regularly. Flash animations engage the visitors, and eventually help the website retain the traffic it generates.

Flash Ecommerce Websites

Flash ecommerce Websites have gained huge popularity because of their user-friendly, interactive, attractive and flexible interface. With common interactive features such as article publication, blogs, secure login, shopping cart systems, etc. the levels of interactivity with the visitors are high and prove to be beneficial for the business.

Database & XML integration with Flash

Flash is good not only for creating animations and static web applications but also for dynamic applications. Flash can read and process XML files which enables it to read external data. We provide Database and XML integration with Flash to create visually captivating, interactive web pages which are, at the same time, easy to edit and update.

Flash Games

We design quick and fun Flash Games that run on a wide range of devices such as computers, phones and tablets with absolutely no friction. Our sophisticated Game Developer Tools enable us deliver stunning console-quality games to our clients.

Dynamic Flash Components

You can add new Dynamic Flash Components to the application that runs in Flash Player. We have created amazing Flash Components that take the interactivity of the websites to new levels and at the same time, better the aesthetics and functionality to a great extent.

Flash CMS Websites

We hold mastery in designing and developing engaging websites based on Flash Content Management System. These websites provide rich user experience, are packed with interactive features and can be easily managed and updated.
Flash Websites Design Sample - More Samples
Over the years, Weblinkindia.Net has designed and developed over thousands of Flash Websites for clients from all parts of the world. Our Flash Website Design Sample will give you a fair estimation of our strengths and expertise in the domain.
Flash Web Design & Development Testimonials - More Testimonials
" The kind of project delivered by WeblinkIndia is exceedingly great in every aspect then be it look and feel, overall appeal, ecommerce integration, or administration of the website. A single glance of images gives real time feel that bodes well for our revenue generation. We're very happy with the s "
Vicky
" Good to obtain the strengths, necessary to compete in today's technological world, with the efficacious solution which are always needed. At each step, WeblinkIndia.Net delivered us more that what was expected and today its expertise has added value in the maintenance of information flow on website. "
Sam Parvisian