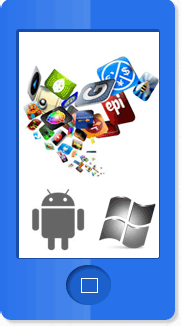 WeblinkIndia.Net has excelled in the domain of providing the best solutions for Mobile Application Development. Mobile Web Development empowers users to experience the Internet services and other offline applications, which can be commonly accessed on diverse mobile devices. A Mobile Application not only allows you to use mobiles and other such hand-held devices for recreation but also include various features for exclusive business usage.

As more companies are realizing the power of conducting business by expanding over to the mobile devices, they are experiencing significant increase in their sales and enhancement of corporate image on a larger scale. Some of the common areas where these applications are being used include:
Market research
E-commerce
Statistical data analysis
Internet surfing
Trading
Project management
WeblinkIndia.Net, a trusted Mobile Web Development Company in India holds expertise and years of experience in developing Mobile Applications for various devices. The applications are perfectly designed to suit the specific requirements of the customers. Besides, we are also engaged in providing effective solutions for Mobile Website Development and Mobile Web Application Development.
Key Features Of Our Mobile Web Applications
Innovative
High usability
Dynamic and interactive
Maximum scalability
Secured
Why Our Services For Mobile Web Development?
Effective services from development to the completion including

Proper research and analysis for understanding the client's requirements and their business objective
Framing the scope of application
Choosing the target audience
Creating the USP of the application

Developing as per feasibility and compatibility
Development of diverse applications for every need
Experience of working with various applications tools and framework
Development of creative and flexible applications
Total value for money
WeblinkIndia with its customer centric-approach and end-to-end Mobile Application solutions have earned huge accolades from the clients. With the backing of our professional workforce, we are considered for providing efficient and timely Mobile Web Development in Delhi.