PRO-TECH SECURITY SOLUTIONS LTD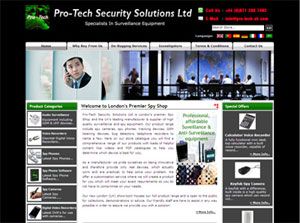 Good to obtain the strengths, necessary to compete in today's technological world, with the efficacious solution which are always needed. At each step, WeblinkIndia.Net delivered us more that what was expected and today its expertise has added value in the maintenance of information flow on website.
Director - Sam Parvisian
ART EFFECTS MANUFACTURING CO.
The kind of project delivered by WeblinkIndia is exceedingly great in every aspect then be it look and feel, overall appeal, ecommerce integration, or administration of the website. A single glance of images gives real time feel that bodes well for our revenue generation. We're very happy with the s
Director - Vicky
SAI MAG WHEELS

WeblinkIndia is true the webmaster, having the power to materialize a concept, right from visualization to effective implementation. Each and every tool, equipped in website, is supported by concerted knowledge and righteous utilization.
Director - Gautam Ratnabhas
ROYAL INTERNATIONAL TRAVEL
Managing trips & perks for the tourists has never been so exhilarating as we have touched the highest ebbs in our endeavors. WeblinkIndia has built the most effective web solution that helped us in serving more clients and maintaining rapport with the existing clients.
Director - Abid Ali Chaudhary
AL NASSEEB KITCHEN EQUIPMENTS
Weblinkindia.net listened carefully to my needs and delivered a fantastic website within a very short timeframe.I am very impressed with the website I received from Weblinkindia.net By the support of their technical team I achieved a very good position in online business.
Director - Naveen Kabeer