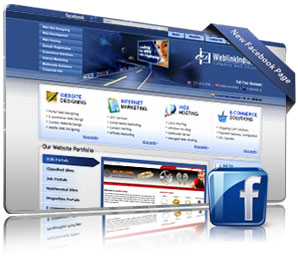 With 750 million active users, Facebook has become a country in itself with a teeming population interacting globally everyday. As a result, it has become one of the biggest platforms for promotion of any person, thing, event or company.

Facebook Pages are specifically designed for this purpose and require technique in creative content placement and promotion to create a buzz that spreads online like a wildfire. WeblinkIndia.Net Pvt. Ltd. provides assistance in Facebook Page Design and Facebook Application Development for diverse entities as per their preference.

Facebook Page Designing or creating Facebook Page Template becomes easy as we can provide different solutions based on different needs and hold expertise in the following:
Facebook Fan Page Design with iFrame
Facebook Page Design with FBML
Facebook Page Design with FBJS
Custom Page Design with Facebook
Right from local business or place, company/organization/institution, brand and product to artist/band/public figure, event or cause and community- you name it, we can do it.