Page : 1 of Total 1 Pages
Stone Spectrum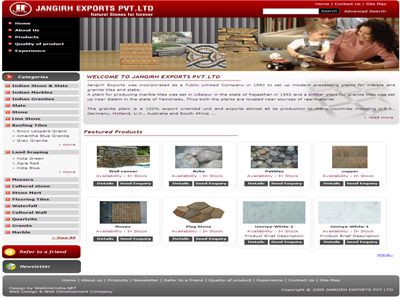 Jangirh Exports Pvt Ltd
Special Projects
Stones are considered as naturally occurring aggregate of minerals and mineraloids or the word 'stone' may be used to indicate an individual piece of rock.
A wide variety of natural stone like Granite Marble, Sandstone, Slate and Quartzite in very extensive and rich deposits could be easily found in India. All of these stone are used for various domestic and industrial segments. For interior and exterior decoration natural stone products are the best means.
Accounting for the 27% of the worlds stone production and ranking 3rd in terms of tonnage, after Italy and China, India happens to be the largest producer of natural stones in world. With wide spread use of latest mining and processing machinery, Indian stone industry is well equipped with modern technology.
India has a long way to go in justifying its potential with encouraging figures. Spread all over the country with less organization, stone industry in India is mainly in small sector.
With a high demand in international market, natural stone is gaining a lot of popularity. To protect them as organized sector is a great need here which we did effectively through our market place and the high merit services like Website Design and
Web Hosting
. Helping in the global branding and quality realization of Indian stone and stone products, we have the best web based solutions.