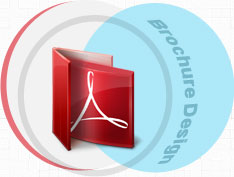 With the evolution of marketing strategies across the world to survive the ever-changing business environment, we are looking at a new era of promotion through specialized Business Brochures and PDFs created by professional agencies. Offering the perfect tool for showcasing your products/services and expertise, these catalogs also help in effectual lead generation at half the cost of marketing directly.

WeblinkIndia is a dedicated brochure design company for professional PDF / Brochure Designing or PDF catalog designing, which has managed to successfully create brochures and other multimedia solutions for clients in India and the world. For PDF / Brochure Designing in Delhi and India, we make use of the latest software to provide the Professional Brochure Design in the least time possible, thus saving your time and money while giving you an edge over others in creating a distinct identity.
We Offer
PDF Catalog Designing
PDF Presentation Designing
Brochure Designing
Whether it is Corporate Brochure Design or Custom Brochure Design for the clients, we start by understanding their requirements in detail and then incorporate the latest trends to make unique and creative brochure designs for each client.
Why Our Services?
Creating online PDFs that are easy to upload and download
Brochures and PDFs designed to make the right impact
Choice of displaying detailed content through compact and impactful brochures and PDFs
Offering user and browser friendly brochures
Backed by a team of technical and creative experts
Providing suitable editing options
Use of latest software in template development for product brochure design that gives proven results
Affordable yet qualitative designs
Effectual content written by experienced writers
For creation of PDFs and Professional Brochure Design, we place special importance on the readability and smart positioning of the graphics. This transforms the details of your business to a format which incorporates the details desired by the readers. Our Brochure Design Services are a result of intensive research to find out what clicks with the readers and fine tuning this promotional tool to advance your interests, while making your business stand out in the crowd.