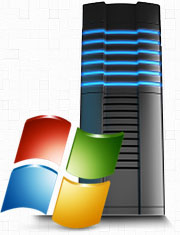 Windows Dedicated Server is a preferred choice of small businesses and individuals as it offers an interface with click and point server management.

This interface is user friendly and also makes you aware of the working of your website. The Managed window Dedicated Servers provided by Weblinkindia gives you a distinct web presence and space, which you need not to share with anyone. With this you can have complete flexibility and control over the server and you can also keep tab on what is installed and running on your server, who is accessing it and also the rank of visitor traffic your server is experiencing. We have developed some notable features in our windows dedicated server that makes it par excellence from other variants available in the market.
Windows Server Features:
1500GB High-Quality Bandwidth
24x7 Dedicated Server Experts
Up to 5 IP Addresses
Free Reboots Manual
Apache (available for install)
MySQL (available for install)
OpenSSL 0.9.7d
Perl and Perl modules (available for install)
PHP (both 4 and 5 available for install)
FreeBSD FTPD
Python (available for install)
Sendmail
Why Us?
24 X 7 X 365 customer and technical support.
Vast experience in dedicated server technology
Support of 100 connections to major networks
Unique lease to own option
We provide power to customize your server the way you like
Complete assurance of maximum uptime
Server management and control panel are the additional features provided by us with our windows dedicated server. Our company has been serving the clients with its efficient Window Dedicated server solutions for more than a decade. Round the clock security and data backup are the foremost features of our data centre. An industry leader in Windows Dedicated Server Hosting Solutions, Weblinkindia provides solutions meeting the various budgetary needs of the clients.